Our air condition picked preciously the right moment to die — during a streak of the hottest weather of the summer.  We knew the day was coming for 10 years, ever since the home inspector told us to replace the HVAC system.  We'd light a candle and say a prayer every time the service van pulled up in the driveway.  Our system was the definition of "they don't make them like the used to" until a 90 plus degree-day, finally made it obsolete.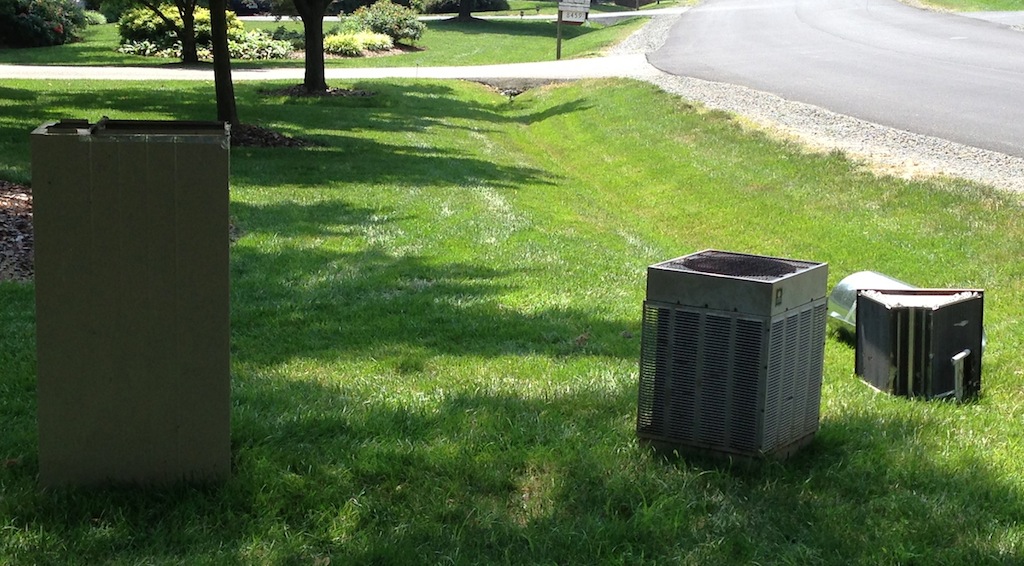 Calling the heating and air conditioning repair shop that we had developed a relationship with over the years, we dug out the five-year-old quote to finally place the order. But first, we would have to endure ten days of oppressive heat until the unit would be installed.
Fortunately, I had a favorable travel schedule that would take me out of town for five of the ten days.  So, on the day of the installation, I took the bullet, or more accurately, the heat seeking missile, and stayed at the house waiting for the service techs…which also happened to be the hottest of the 10-day stretch.
The techs arrived at 9 am, and I camped out on our deck to get some work done.  With a 20-inch oscillating fan blowing my way, the day started off well.  Walking through the house one of the techs commented that our house was the hottest house he had ever serviced…echoing the same comment the sales person made on his initial visit.
Passing the thermostat, I noticed that the house had reached 93 by 11 am.  Thanks to a new roof and windows, our house held temperature in like an oven, which it was quickly becoming.
By mid-day the house was 95 degrees and showed no sign of stopping. The service guys and I were consuming ice water like it was beer at Oktoberfest.  By this time it was too hot to be outside or inside, with both my phone and computer giving me heat warnings.
Then in a fit of true insanity, most likely heat induced, I decided to cook.  Leaving for vacation the following day, I was determined to eat the vegetables that had finally ripened in our garden. Any man in his right mind, which I obviously wasn't, would have grilled, but we had ripe zucchini and I was hell bent (pun intended) on making one of our favorite meals.
This would involve doing the top two things you should never do in a hot kitchen — boiling water and frying oil.  At one point in the cooking process, I realized that the house could have been in flames around me and I would have had no idea.  It was the definition of a "hot mess".
After dinner, and perhaps a result my cooking, the UEI IND151 heat sensor would register a high of 97.5 degrees in the house, shortly before the new AC would kick on.
Through this experience I learned a few things:
"Fire" and "heat" are perfect metaphors for Hell.
"Crazy from the heat" isn't just an expression, it's a reality…I know I lived it.
Johnny Cash got it right when he sang "we got married in a fever, hotter than a pepper sprout".
But more importantly, I was reassured that people can be kind and generous.  Neighbors offered sympathy, fans, shelter and refuge.  A neighbor we had only known for a short period of time offered us their home while they were on vacation.  Others insisted that we come by and use their pools to give us, and our dog, a break from the heat.
The heating and air conditioning company we used wasn't our first choice but turned out to be the best choice.  The first company told us it would be three weeks before they could schedule us.  My wife tried to reach them unsuccessfully for days, trying to move up the date, concerned about the health and well being our family.
Not getting a return call, she turned to a local family owned business by the name of Snell & Sons, who had sympathetic ear and a reserve of AC units for just this type of emergency.  They were able to install it sooner, for less, and were completely in tune with our situation.
Our lives are busy, often leaving little time to socialize with our neighbors or friends.  We default to email or social media because it's quick and easy.  But this experience reminded us of how effective, and important, person-to- person communication can be, and like air condition, how often we take it for granted.
People can, and still do, look out for one another.  They can be sympathetic and generous, reminding us that we're not alone in this world, even though it may seem that way sometimes, and that, a small business can often offer something large nationwide providers can't, or don't — empathy.  The best of them know that the lifeblood of their business is referrals and customer loyalty.
They don't need to offer elaborate rewards or points to gain, or keep, a customer.  Most likely, the customer is won or lost based on how they respond to the person on the other end of the line in their time of need.  And they know, when the time comes, that experience will be shared with others.
It's often said that we live in a "small world", and in a situation like this, we're reminded of why that is a good thing.