Last September, Pat Spenner, co-author of The Challenger Customer and I presented a webcast entitled Lessons from the Challenger Marketing Trenches. During the webcast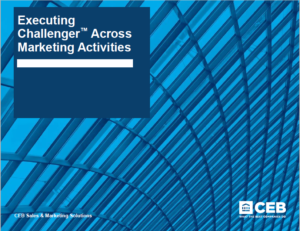 Pat and I shared our key learnings on executing Challenger across a multitude of marketing activities: customer understanding, marketing messaging, content strategy development, content and sales tool production, and lead generation.
On March 8th at 11 am (EST) Jessica Cash and I will be presenting Using B2B Content to Drive Alignment & Accountability, details on the event and registration below.
Overview: With increased budgets comes increased calls for accountability. Today's top marketers are using Commercial Insight, personal value, and help from peers to craft content strategies that result in more than just customer engagement. Learn best practices and ways to avoid common pitfalls that often leave marketers struggling to improve lead quality.
Join Jessica Cash, Head of Sales and Marketing Solutions Product Development at CEB, and Scott Gillum, President of gyro in Washington, D.C. as they answer questions, such as:
How can marketers avoid always defining their business solely from the legacy perspective?
How does redefining themselves allow for better alignment with customers?
How can value drive customer action?
Jessica and Scott will be holding up the mirror in order to show how CEB is applying these best practices and principles in their own marketing efforts, so come ready with questions!
When: Wednesday, March 8 at 11 am (EST)
Click here to register