A week doesn't go by that I don't hear clients express concern about their ability to produce a consistent flow of quality content, yet every day my inbox is full of emails offering white papers, research, webcasts and blog posts.
So we set out to solve this "paradox of content marketing."  How is it that clients are not able to produce quality content for their purposes, but I get an average of 35 emails a day offering me content?
Our Approach
With the help of our summer intern, Sergio Pianko from Georgetown, I archived a weeks worth of content related emails sent to my primary work email.  For this experiment, I did not include any other personal email accounts, social media or offline publications.
The Findings
Content Volume
For the week, I received 217 unique emails containing access to 1,131 pieces of content.  Thursday was the peak day of the week, which surprised me, with 9 am being the peak time of day, which didn't.   I received an email offering me content, on average, almost every 15 minutes.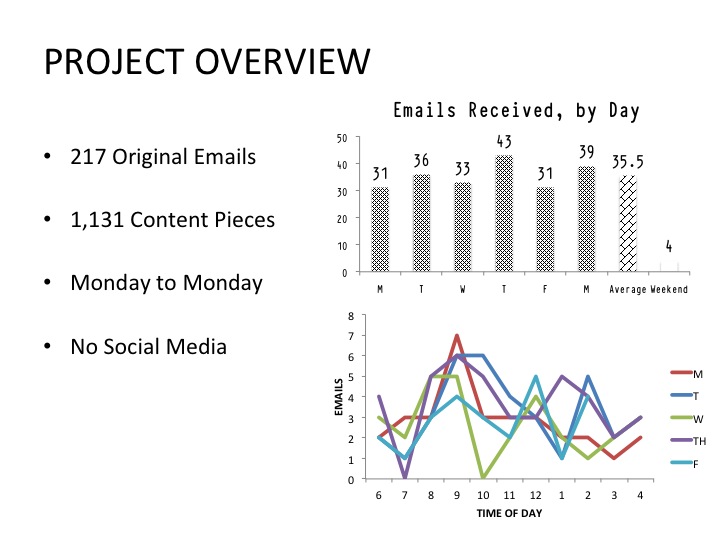 Content Type
A new report by the CMO Council entitled Better Lead Yield in the Content Marketing Field found that 87% of the respondents said that online content plays a major or moderate role in influencing vendor selection.  The content they trust and value most?  Professional association research and whitepapers 67%, industry research reports and whitepapers and customer case studies. The least valuable was vendor content, with 67% saying they don't trust it.
What's in my inbox?  Well, I'm partial to content aggregators.  My two favorites providers are MediaPost because of their ability to narrow the scope on relevant topics, and their expansive content producers (including this author).  I also like SmartBrief publications, they provide e-newsletters on behalf of others, like the BMA. I find the layout to be quick and easy to peruse, and they usually feature a research offer.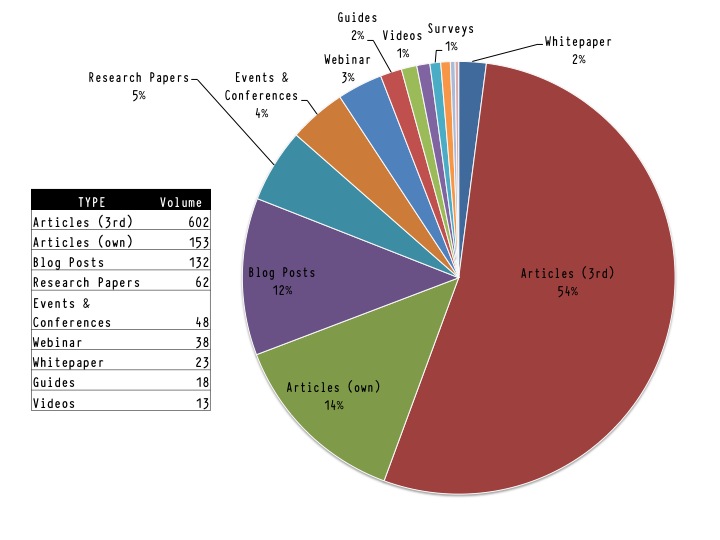 It was interesting to see that even though White Papers were mentioned to be the most valuable content piece according to B2B buyers, it represented less than 2% of the content I received.
Key Insights
Stop Calling Me
Downloading content that you offer for free does not make me a prospect.  Save the $25 dollars you're spending on the outbound telemarketing call and use it to track my behavior until I am qualified.  Still not enough for you, we get that "free" comes with a price so consider this payment.  According to the CMO Council report 87% of B2B buyers share your content with 5 or more people.  Remarkably, 28% mentioned that they share it with more than 100 folks.
Overweight Content related to the Business Case
The first phase of the buyer journey is research. A prospect can cycle in this phase for weeks, even months, never reaching the next step, which is the business case.  If you want to qualify real prospect, focus on providing them content that is related to making a business case for buying your product or service.  For lead nurturing, overweight the scoring for pages or content that relate to this as well.
Content is not King, nor is Relevancy, Actionable is the Opportunity
Sergio sorted the content using four filters; Relevancy, Usefulness, Credibility, and Actionable, based on the definition in the chart (below).  For the most part, I had selected information sources that produce relevant content, and because of my use of aggregators it kept me informed about industry develops or issues relating to my clients.  We then check into the backgrounds of the content authors and found that for the most part, they were credible using our definition (below).  But along the way Sergio did discover a couple of frauds, not surprisingly in the social media space.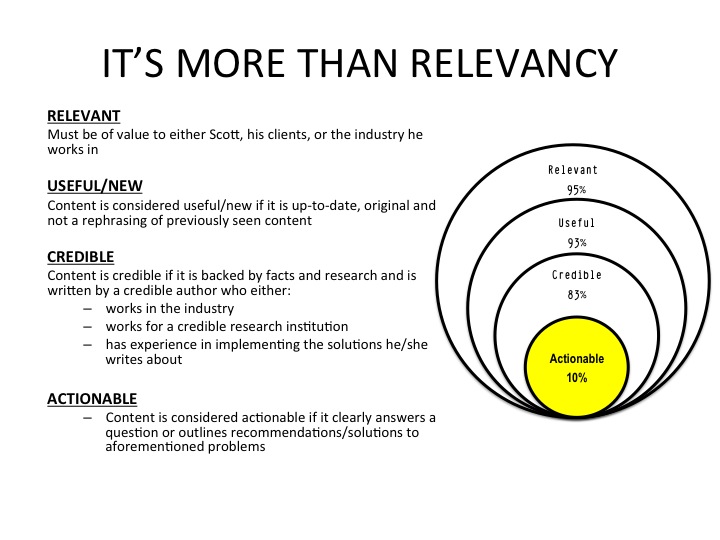 The most interesting findings was that very little (less than 10%) of the content was "actionable" in that it provided recommendation/s or solutions to the problem or issue discussed.  And most of the actionable content came in the form of Webcasts.  As a content marketer this is the opportunity and, given its value, think strategically about how you deliver it.  Because of the scarcity of this type of information, you can request an exchange of value with the audience, be it contact information, attendance at a webcast, etc.
Opportunity #2 – Video
Numerous studies have pointed to the growing influence and use of video content. Yet it represented only 1% of the content I was offered.  Yes, it is more complex, time consuming and expensive but it will also drive better results.  It's worth exploring, from past experience early innovators reap the greatest rewards.
Develop Buyer Personas
To understand some of the findings it may be helpful to know my email and content profile.  I am an active content seeker and email deleter.  Unlike some colleagues and friends, I like to keep a neat and tidy inbox.   I delete emails early in the morning, and late afternoons.  During the day I may delete emails as previews flash on the screen.  Also, because of my consulting background, I am drawn to market research and data oriented content.   I download and archive many items that I later review…typically on planes.
That's my content "persona."  Agencies have been creating audience personas for years and now, if you're a client side marketers, it's your turn.  According to the Demand Gen Blueprint survey only 25% of marketers have developed buyer personas, and of those who have, only 35% have mapped content to buyer stages.
Who Does it Best?
To win, you have to make it in the inbox, get the email open and the content viewed.  The organization that does that best, in this man's opinion, is IBM.  For their insight into the C-Suite, quality of research, and frequency of contact…which is only when they have something of value.  They are the only "vendor" I let in my inbox.
Runner up is McKinsey, for their "big picture" thinking and ability to take complex problems and explain them in very simple terms (especially in 2 min videos).  Best New "Up and Comer" is the Aberdeen Group, a recent change in their business model allows free access to quality research, which this "freegan" appreciates.
Content marketing will only grow in importance for business marketers over the next few years.  There are opportunities to get your information viewed, and shared, but to accomplish that you have to understand your audience's content consumption behavior, provide them something of value, and deliver it in the channel and/or through the content provider they prefer.
There is a lot of work to be done, so have at it.  Looking for a starting point, do a similar experiment with your customers.  Ask them to send you a weeks worth of content related emails, you'll be surprised by what you find.