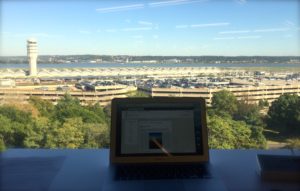 This is the view from my standup desk. On some days, I stare out the window at Regan National and fantasize about flying off to an exotic location as a result of the wide success of the new business. On other days, I think about getting on a plane and running away from it all. That pretty sums up my first 30 days. Ping-ponging between extreme highs and lows, and never feeling like I'm going fast enough.
In my last post, I used the analogy of running up a hill, here are some of the things I've learned in the early part of this journey.
Commute – Now that I no longer paid parking I'm now a mass transit user. My commute to the office used to be an hour via the backroads. It's now a 40 minute (on most days) Metro ride. Have to say, I don't miss driving, in fact, getting back in the car holds no appeal at all. On the rare occasion I need to drive to work I tap my Parking Panda app and park in the garage across the street for half the listed daily rate.
Office – For three years I was a mentor at the startup incubator 1776. Now I'm a member. Settling in I've been surprised by the other entrepreneurs in resident. Or in other words, I'm not the only old guy among the twenty-somethings. In fact, there may be the same amount or more of us. It's also not all startups. Accenture Digital is here, and a major health network and venture capitalist from Israel.
Tools – holy cow, there are so many low or no cost tools available it's hard to cover them all. Here are a few that you might want to check out. Try MeetUp which was recently acquire by WeWork for expanding your network, learning new skills, meeting like-minded folks. If you are a retail business try Alignable for building a referral network. No longer have someone to review your proposals sign up for Grammarly. How about an assistant to manage your schedule try Calendly. If you have remote employees you have to have Slack. You'll need a domain, a website and email. I got everything from one provider, GoDaddy but there are other sites like Verisign and Web.com.
The team – you'll need an account, lawyer and banker. In addition to family and friends! Some will be your guides, others your cheerleaders and on certain days, both.
Inspiration & Insight – by coincidence, I happen to be reading two books that have been very helpful in various ways. The first, Chaos Monkeys is about the startup environment in Silicon Valley. Great insight (and entertainment) regarding various funding methods, understanding investors, dealing with team members, and the long and bumpy startup road. If you're doing anything in the Tech space this is a must-read. The second entitled Will It Make The Boat Go Faster is a business management book (goal setting, success drivers, overcoming challenges, taking risks, motivating teams, etc.) told through an inspiring story of a British Olympic rower's quest for a Gold Medal at the 2000 games in Sydney. If you think the startup life is hard, try being an Olympic athlete. It helps keep things in perspective — this quote from the chapter on Risk has been particularly comforting…"The most conservative, boring person living the greyest of lives is taking as many risks as the adrenalin junky free climbing on a high rock race. The difference is the type of risks they are taking."
The paperwork & process – if you're thinking about venturing out on your own here are some of the forms, legal documents, and agreements you'll need. If I only knew what I know now…

Memorandum of Understanding (MOU) – in my case I have an international investor so the first step for us was to get to the MOU which laid out the terms of our agreement including, ownership, investment commitment and the business model.
Certification of Formation – the next step was then registering the business. We registered the business as a Limited Liability Company (LLC). As part of this process, you will also need an LLC Operating Agreement form and Organization Meeting if registering as a Sole Member of the LLC.
Tax ID – now that the business is registered go to the IRS.gov site and get an EIN (Employer Identification Number) which is essential for setting up your bank account and tax purposes.
Business Bank Account Forms – if you're registering as an LLC you will need 1) the Certification of Formation, the Operating Agreement and the IRS letter with your EIN
Register the Business in the State of Operation – my business is registered in Delaware but operates out of Virginia which required filling out an application for a Certification of Registration to Transact in Virginia. You will then receive an ID and DCN (Declaration Control Number) for tax purposes and a DCN number. Also, check with your county and/or city for additional registrations and tax liabilities.
Operating Agreement – this document turns the MOU into a legal agreement. It contains more detail relating to the management and operation of the company, (liabilities, tax obligations, ownership structure, dissolution, etc.) It's also critical for unlocking investment in the organization.
Other Documents – you'll need a W-9 and business insurance. Check with your homeowner or car insurance provider you may find they offer business insurance as well…mine did.
I'll be back in 120 days to give you another update on #buildingcarbondesign.