Twenty-five years ago, I was a snot-nosed kid out of college who suddenly decided that law school was not in the future.  With a recession on, and needing to pay the rent, I took the first job offered and went into sales.
Having learned nothing about the profession in college, I picked up a copy of Miller Heiman's Strategic Selling — still have a dog-eared copy on my bookshelf.  I learned everything I could about the buyer types, account management, and the sales process.  "Know the process work the process," as my first sales manager used to say.
Typically, that process came down to 5-to-7 steps that generally covered the following areas below.

Over the years, I found that working the process helped give you sense of control.  It came down to the numbers; calls, leads, transaction sizes or conversion rate.  Call on X number of qualified prospects to get Y amount of proposals, at Z close rate, and you made bonus.
But, research from Google and CEB entitled The Digital Evolution in B2B Marketing provides new insight into buyer behavior, and it challenges the conventional wisdom.  According to the study, customers reported to being nearly 60% through the sales process before engaging a sales rep, regardless of price point.   More accurately, 57% of the sales process just disappeared.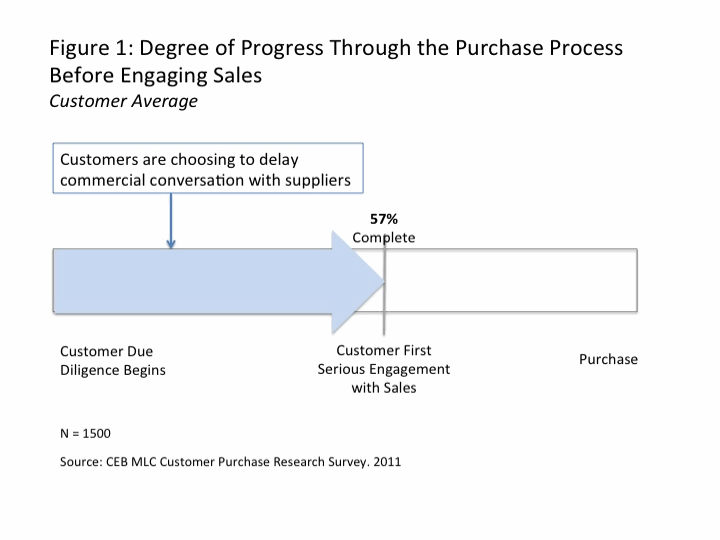 What are buyers doing if they're not talking to sales?  Well, they're surfing corporate websites to identify and qualify vendors, instead of the sales forces qualifying them.  They are engaging peers in social media to learn more about their needs, potential solutions, and providers.  And they're reading, listening to, and watching free digital content that is available to them at the click of a mouse.  No longer is the sales force the sole source of information.
What does this mean for sales and marketing? 
The study recommends focusing efforts in three areas; 1) improve marketing communication integration, 2) develop and activate a content strategy, and 3) strengthen multichannel analytics.  Nothing new or breakthrough here, but the study provides good examples of how companies are executing against each point.
However, I found a number of other points to take from the research.
It is not all bad news – for products or services with low price points and/or margins, having customers self direct themselves through the sales process can help reduce the cost of sale and/or create leverage for the sales force.  In fact, in certain situations an organization will want to encourage and/or incent this behavior.  The research also found that some customers felt comfortable going through 70% of the process before making contact.
Changing buying behavior – an old manager used to say that technology changes fastest, then consumer buyer behavior, and eventually, organizations.  The "57%" stated in the research makes for a good sound bite; the fact is, that number will vary, greatly by customers, transaction, industry, etc.  The point is that change is a constant; the question is how far ahead or behind is your sales and marketing efforts? Are you keeping pace?  The second question is, how would you know?
Content Distribution – as the study notes, the sales force is still the most effective and important communication channel.  When developing the content strategy ensure that the best and/or most valuable content is not in the public domain, reserve it for the sales force.
Time to Take Social Media Seriously – with well-informed prospects, sales reps have to quickly learn what buyers know or perceive about the organization, products/services and competitors.  Social media can help them better understand what is motivating buyers to take action, what buyers believe to be true, and perhaps most importantly, who they believe.
The Future
Business decision makers will continue to drive their buyer process deeper into the sales process.   As a result, relevant content will continue to escalate in value, especially content related to consideration and purchase drivers, and the business application of the product or service.
Social media and monitoring has helped many marketing organizations understand this trend and to make the transition from being content "dictators" to information "facilitators."
For sales, the research may be an epiphany.  No longer can it be successful focusing solely on an inwardly directed process intended for reporting and planning purposes.
With ever-increasing knowledgeable buyers waiting longer to engage, sales has to transition from being a "product pusher" following a process, to an insight "provider" adding value to the buyers business.  As the study states, sales must deliver "pointed insights and evidence that seek to challenge an entrenched point of view among potential customers."
Finally, it is time to recognize that we're not in control, and perhaps we never were.  The traditional sales process is now obsolete; it is now time to follow the buyers' journey.