Original post date May 2010, the post was recognized as one of the best post on Social Media for 2010.
As with most new technologies, social media is starting to "settle in" and common applications of the platforms are becoming known.   In many large B2B organizations, that means social media is finding a home in the marketing communications group, often landing in PR.
That seems fine for B2C organizations; however, I'm not convinced that it's the right spot, and/or the only spot for social media in B2B companies.
The Upside Down Funnel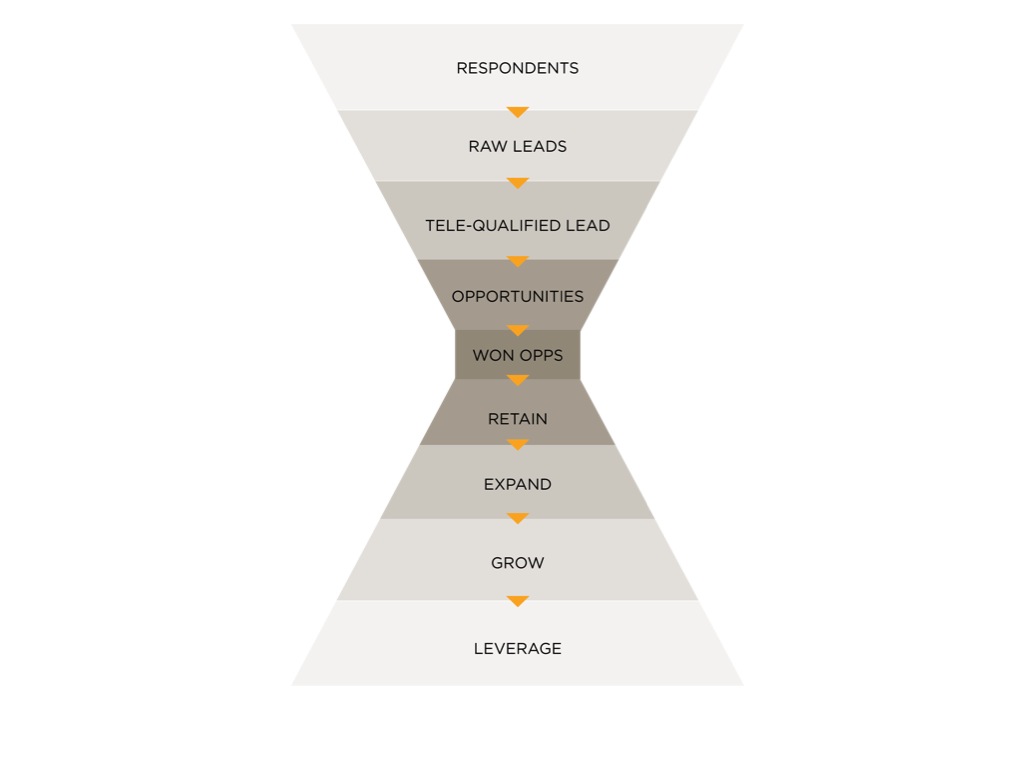 In most B2B organizations corporate marketing's role is related to driving "top-of-the-funnel" activities.  From advertising, PR, and now social media, the focus is on creating awareness…and hopefully, driving consideration and preference. There is another opportunity that may not be considered, a part of the funnel where marketing, in particular social media, can play a valuable role.
It's at the very bottom of what I'll refer to as the "upside down" funnel. To find such an opportunity you have to think about a funnel that starts with once a prospect becomes a customer.
Just as a sales funnel has stages so does the customer relationship management process. Companies should be actively pursuing strategies and tactics to retain, expand, grow and then leverage customer accounts to win business.
This is where I think the "sweetspot" is for social media in B2B.   Here's why: social media is about "consumers selling to consumers", or "professional-to-professional."  If a company does its job of nurturing and retaining customers, it should be able to transition from having a relatively unknown prospect, to a known customer, to hopefully, a well-understood customer advocate…at least that's the goal.
The Opportunity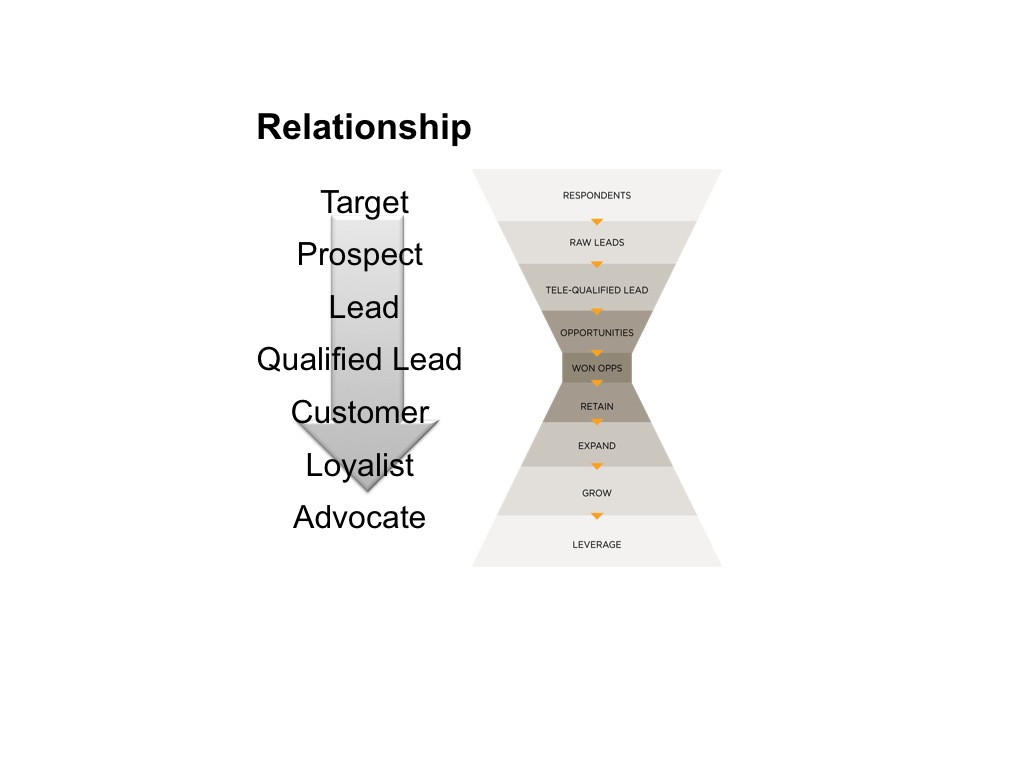 If a company enables those customer advocates with social media it gives them a platform to spread the good word.  The potential of this opportunity is huge, and for the most part, being missed at most companies today.
As we all know, word of mouth is the most effective marketing there is, enabling it with technology creates scale, and the ability to track it.
To do this successfully, companies have to first identify this opportunity within their organization;  second, they have to change their current way of thinking about social media beyond its present use in marcomm and PR.
It means finding uses and opportunities within sales and customer service.  Yes, listening to customers chat about your service on Twitter is important, but I'm talking about creative ways to use it for:
customer-to-customer referrals & recommendations
building communities
facilitating discussion groups
The goal is to find ways to emotional connect avid customers to the company and/or products, and then provide them with an outlet to communicate that passion.  
What to Do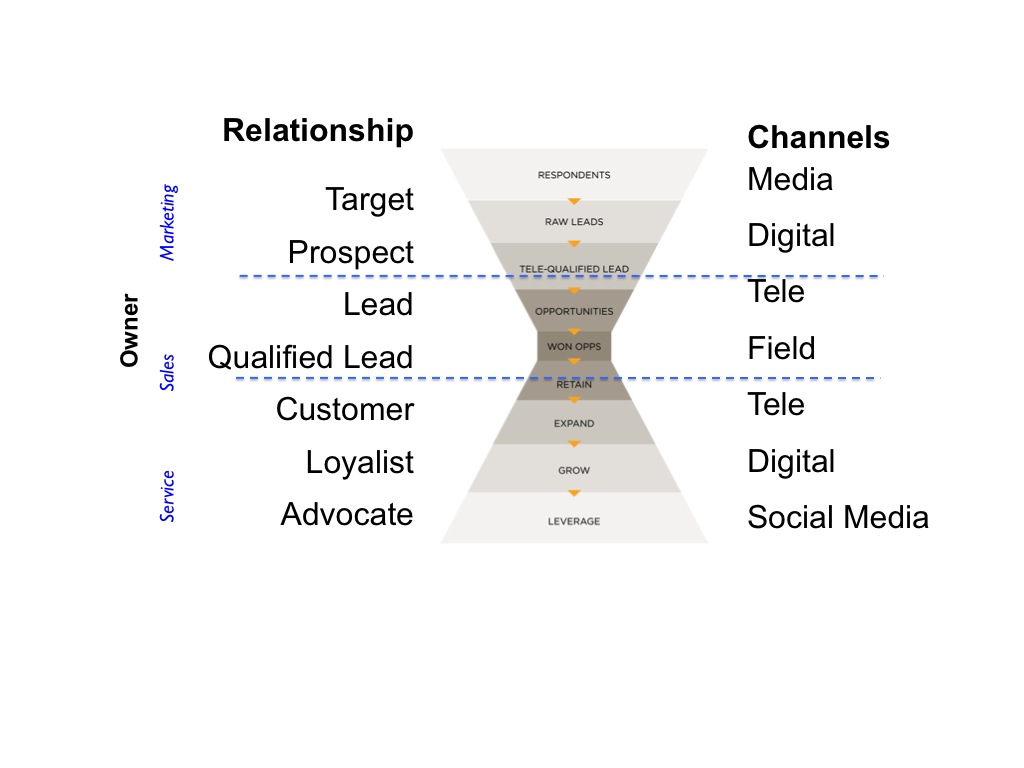 As relationships deepen, customers begin interacting in more personal channels.  Through those interactions they are likely to share more intimate details about themselves, and their relationship with products/services and the company.
Companies have to be able to collect this information across channels to create a complete profile of a customer.  If this can be achieved, an organization will have everything it needs to begin enabling, influencing and studying customer advocates.
Finally, watch out for the "silo" effect.  Typically, at least three different organizations will be interacting with the customer as the relationship develops.  But it's only one customer interfacing with what the customer expects to be one company.  The organization has to be "in sync" because the last thing a company wants is to provide a customer with a platform for communicating the wrong message.  Turning an advocate into an adversary is not the goal.