Original post date July 29, 2010
Ritz-Carlton has long been know and recognized for its ability to delight customers.  Although I've used them frequently as a best in class example for clients, I never truly experienced what makes them so good…until now.
My family and I just returned for our summer vacation where we had the good fortune of staying at the Ritz-Carlton on Grand Cayman for the week.  While we originally booked the Marriott, but a special off-season promotion through America Express and the loss of our family pet led to a change of plans.
The experience was memorable, even though the weather wasn't…we now understand why it's called the off-season.  Nonetheless, during our stay we were continually delighted by the service we received.
The Ritz-Carlton has created a perception of exceptional quality and service, and the staff delivers on it.  They are in the hospitality industry, and as a result it's "people" business. But their model is not just as simple as 'serve the customer." They add interact, engage, and listen.  So simple and intuitive that it makes you wonder why other companies can't do the same.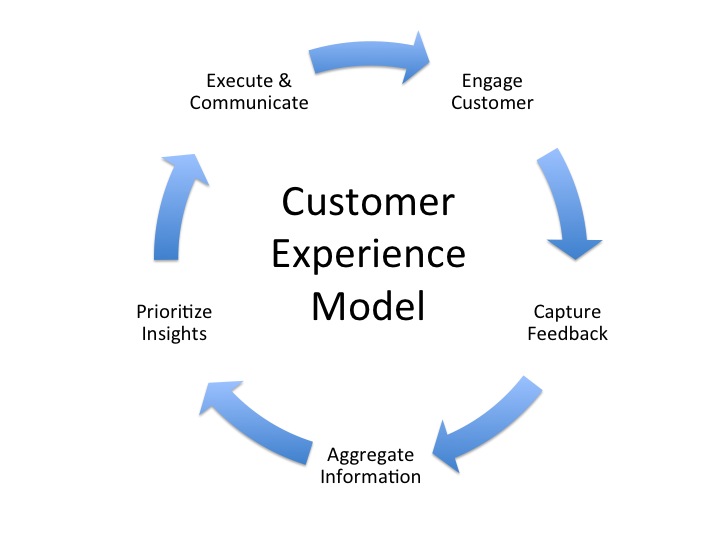 Examples of how they bring this to life:
The Customer Experience – not only do they understand how you might want to spend your time on vacation, they anticipate it.   For example, in the mornings by the front door they had a jogging trail map, cold towels, bottled water, and a sign welcoming back joggers.  They also set up a water cooler at the water sport station anticipating that guests want water given the amount of salt water inhaled while snorkeling…maybe that was just me.
The Little Things – If you preferred to run indoors, they had a full service health club complete with trainers.   The most interesting thing in the gym was a 2-inch piece of a foam noodle, commonly used to float in a pool, in the cup holder of the treadmills.   It served as shock absorber, and it elevated your bottle making it easier to reach while running.  I've been in a lot of gyms in my life and none of them have had this…only the Ritz.  Most likely this insightful and accommodating amenity came from listening to customer feedback.
Going Beyond the Role –The doorman was our personal tour guide.  He told taxis were to take us for dinner, marked up maps on top snorkeling spots when we rented a car, and gave me directions on where I should run in the morning.  And of course, he inquired about our experiences each time we returned.  Similarly, our waitress at breakfast was also our personal shopper.  She told us the shops with the best deals, the best places for kids, etc.  Despite their title and/or their role, these employees played an essential part in defining our customer experience by going above and beyond the call of duty.
It's about the BRAND – They understand and maintain the brand like few others.  The tennis courts by Nick Bollettieri, the golf course designed by Greg Norman golf, the world famous Silver Rain spa from Sweden, and for good measure a Tiffany's onsite.   Brand was everywhere, on water bottles, towels, the morning newsletter, etc.   A premier brand that only associates with other premier brands.
Creating the Perception of Value – This gets back to understanding what guests want to do during their vacation.   The Ritz charged a $35 a day resort fee.  That fee included the use of water sport equipment like snorkeling gear, kayaks, and paddleboards, but then they charged for other items like Hobie Cat sailboats, etc.  The nearby Marriott on the other hand had outsourced their water sports to a local vendor that charged $15 a day for snorkeling gear, and $25 dollars an hour for Kayaks.  With a reef just in front of both hotels, guests at both snorkeled almost every day and/or used the gear to snorkel at other locations around the island.  For a family of four we paid $35 a day for 4 snorkel sets plus the use of the other items listed above.  Marriott guests paid $60 a day simply for the snorkeling gear.  Anticipating that guests would use snorkeling gear daily, The Ritz built it into a daily fee which we learned about at the beginning of our stay, instead of feeling like we were being "nickeled and dimed" to death each time by renting daily.  Packaging "solutions" is a constant challenge for most organizations.   The Ritz teaches us that to be effective organizations must understand how customers want to use their products.
Technology – the staff on the beach and at the front door wore headsets and microphones.   As I mentioned earlier the staff took the time to personalize your visit and get to know you and your name.  As you went from one location to another they would alert their counterpart that you were on your way.  This provided them time to greet you by name and to anticipate what you might want…towels for the beach, a taxi, etc.  Simple CRM, applied in a very effective manner.
Constant Collection and Use of Customer Information – Regardless of where their staff came from (France, Bali, England, etc.) they all took an interest in their guest's stay.  They collected information about what they liked, disliked, and then preserved it to pass along to other guests.  In a sense, staff members built their own internal Trip Advisor based on guest feedback.  For example, one night we wanted to go to a Mexican restaurant for dinner.  I searched in a local restaurant guide and found one.  When I asked the Concierge about it, she said she never heard of it, and recommended another restaurant.  Finally I found a person at the front desk that knew where it was, but he proceeded to recommend the same restaurant as the Concierge.  Deciding that the other restaurant was too far, we went with the one I found. It was terrible.  No one knew of it for a reason.  Even the Taxi couldn't find it despite having been on the island for 20 years, and it turned out to be only 2.5 miles from the hotel.
Ultimately the secret to their success is simple…they understand, personify, and cherish the brand, and they engage and listen to the customer.